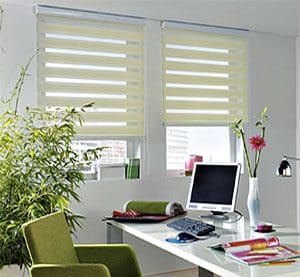 Honeycomb Blinds Manufacturers in Mumbai are very helpful in controlling the amount of light entering the room according to your own needs. Too much sunlight can be detrimental, but window blinds effectively help in filtering the UV rays and allow a sufficient amount of light and heat during the day.

Unfiltered UV rays can cause skin cancer. We are always grateful to the ozone layer for filtering the harmful UV rays. It also filters UV rays and a source of vitamin d. Same as a layer of the ozone layer, window blinds are also very helpful to protect us from the sun rays in particular homes, individual offices, buildings, and apartments in different sectors. It does not only protect us from high heat but also plays an important role in our day-to-day privacy.

In other words, window blinds have a variety of thermal effects, and they can block the sun's unwelcome heat during the summer. In cool weather, they can keep you warm. However, depending on the designs, they also reduce light in both of these applications to variable degrees.
Top 5 Benefits of Window Blinds
Durability and strength

window blinds are more useful than other types of window coverings. Water easily damages curtains and drapes, making them difficult to clean. As a result, blinds or shades are more suited to rooms with a lot of moisture, like the kitchen and the bathroom. Most blinds have a waterproof seal that allows water to be easily wiped away. This implies they're less prone to mound formation, which thrives in high-moisture environments. Vertical blinds, for example, are simple to clean since dirt and water are removed by gravity.

Complete discretion is guaranteed.

When it comes to privacy, blinds offer a lot of options. You can tilt them somewhat to block the view or totally close them for ultimate seclusion. When it comes to privacy, the ability to tilt them offers you a lot of possibilities.

Conserve energy.

By closing the blinds, you can keep direct sunshine out of your home and avoid undesired solar heat absorption. Because heat is lost via windows during cold nights, closing window blinds helps save energy in the winter. Closing the blinds will help to insulate the windows and so reduce heat loss.

Affordable

Window blinds are becoming increasingly popular as a result of their low cost and ease of use. Roller Blinds Manufacturers in Mumbai offer quality products with long-lasting materials that will keep them looking wonderful for a long time.

It shields you from the sun's harmful rays.

Window blinds provide you more control over the amount of light you let into your room than drapes and shades do. To let in the correct amount of light, tilt, close totally, or open your blinds. You can even acquire them in a number of materials to expand your light control options even more.

Reasons Why You Need Window Blinds

By using window blinds, you increase your sense of privacy and security because there is no need to peek out the window when it is dark outside. You only lower your blind by pulling the cord or twisting the wand. It will be very hard for someone to watch inside from outside. This will maximize your privacy. Zebra Blinds Manufacturers in Mumbai provide you with a high level of privacy that you cannot get from simple window treatment options. With the right set of blinds, you can have complete privacy.