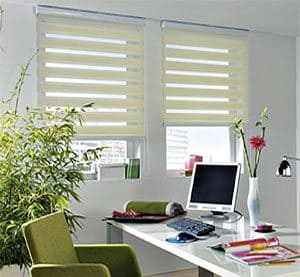 Zebra Blinds window shades have blacked-out fabric strips with a transparent material in between to allow light to pass through. The blinds get their names from the zebra-like pattern on these window shades. Likewise

zebra blinds provide good privacy while also controlling the amount of light that enters the room. Zebra blinds are popular because they come in various attractive designs and light filtering options.

Learn more about zebra window shades, their advantages, and the various types available.
What Zebra blinds manufacturers in Mumbai offer
Zebra blinds help control light flow and offer the right amount of darkness when you need it. These blinds come in various opacities, from a total blackout to sheer or semi-sheer. This product is for you if you want to block out the sun's UV rays and natural light or if you want maximum brightness in your room. Choose an opaque model for bedrooms where you want complete darkness and privacy. Choose a sheer model if you want more natural light, and privacy isn't necessary. These window treatments are also an excellent way to insulate your home's windows. The right window shade can aid save energy costs by preventing sunlight from heating your property in the summer and adding another level of protection from the harsh effects in the winter.

The cordless option allows you to raise and lower the blinds by pulling or pushing on the lower bar. A cordless blind's neat appearance is functional and practical because it is safe for children, where cords can become a dangerous strangulation hazard. There's also a prolonged cord loop option, which means that no matter how much you raise or lower the blinds, your cord will never change in size. When you raise your blinds, you'll never have to deal with an excess cord. If you want a little more convenience, several motorisation options are available on the market. If you use a battery, solar, or wired motorisation package, you can control your blinds with remote control.

The zebra blinds come with inside and outside mounting options. The shades fit inside the window casing in a mount. This mount has a simple and clean appearance and is ideal for highlighting an appealing window trim or moulding. This option allows you to conceal unsightly windows or other flaws.
Benefits of zebra blinds
Zebra Blinds Manufacturers in Mumbai offer standard blinds with two settings: up and down. Additionally, zebra blinds have three settings: open, closed, and up.

1) Light Flow control

The greatest thing about zebra window shades is that they allow you to keep your windows fully open while still controlling the amount of light that comes in. You can adjust the shades in the room to achieve semi-darkness, complete darkness, or full sunlight. If you have specific requirements, there are different shade types for each.

2) Privacy

Zebra shades provide two levels of privacy: level 1 is sheer and allows the most light to pass through; level 2 is opaque and allows the least amount of light to pass through. From the outside, it's simple to peer into the rooms, and level 2 is entirely private and blocks out all outside views.

3) Easy Maintenance

Zebra shades don't require a lot of maintenance. When the shades become dusty, vacuum them and wipe them down with a damp cloth. You can also soak these fabrics in water to remove dirt on occasion. This will keep the blinds clean without causing the material to deteriorate or the colour to fade.

4) Easy to Use

These shades are simple to operate and can be adjusted to fit your needs with the help of a simple chain mechanism. Some zebra shades come with motorised features to make the control easier with a remote or phone. Some other blinds come with cordless options and adjustment is possible with an assistance. Shades out of reach, such as outside mounts, are typically controlled by remote control. The shades are also simple to set up.

5) Perfect for the summer

During the summer, zebra shades keep the rooms cool. They also keep the sun's harmful UV rays out of the house. This will help the furniture last longer.

6) Appealing look

Zebra shades come in various appealing shapes, colours, and sizes. There are numerous options available to you, and zebra shades complement any type of interior design.

7) Durability

Zebra shades last for years without causing folds in the material or fading.

Based on your preferences and requirements you can customize the Zebra window shades. Before placing your order, double-check that the measurements and light gap requirements are correct.

Get in touch with professional Zebra Blinds Manufacturers in Mumbai to know which type suits them best.