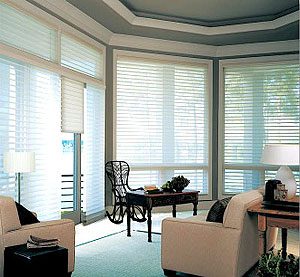 Windows have a specific role. It enables light into a space while also providing a facility to look at the environment outside the windows from a practical standpoint.

Windows, on the other hand, require a supporting cast in order to be appealing. A carefully positioned tall lighting is a piece of decor that alters the atmosphere and adds a personalised feel to the room.

But what about the one constant? The finishing touch is a set of Silhouette blinds Manufacturers in Mumbai that are attractive and sophisticated.
Reasons that make silhouette blinds special

Light control

The Silhouette blinds allow a small amount of light to pass through the windows even when the curtains are closed. Homeowners prefer Silhouettes as window coverings because they blend the finest of cellular shades and mini blinds. Your windows will appear lovely with Silhouette blinds, whether open or closed.

Silhouette blinds are made of a delicate fabric that allows light to pass through. You may adjust the angle of the slats to get the shade you want for yourself and your furnishings.

Despite the fact that light can pass through Silhouette blinds, no one outside the window can look in. As a result, Silhouettes from Blinds India provide you with the privacy and light you require.

Flexible Operation

Silhouette blinds are enveloped within the top rail when raised. The blinds allow you to have a large open window with really no blinds in the way. The Silhouette window blinds can be lowered to various levels or completely closed.

The slats of Silhouettes are available in a variety of fabric colours. The window blinds themselves are available in various sizes, and if you have a window with an odd form, Blinds India may custom-make the Silhouette blind for you.

When you purchase Silhouette blinds , you can select the material type you want for your blinds. Choose silhouettes by Blinds India's wide range of collections, vibrant coloured sheers, or the linen texture if you like something more rustic. The top-down/bottom up feature of Silhouette window blinds is a unique feature.

If you want, you may have these blinds open from the top of the window all the way down to the bottom, which is a unique style in window blinds.

With the press of a button, you can raise or lower the blind and rotate the slats to the precise angle you desire. When the vanes are closed, Silhouette blinds block up to 99% of the sun's UV rays, and when they are open, they block up to 63%.

Screening for Safety

Don't be fooled into thinking that Silhouette Shades are merely for decoration. The sheers protect your furniture and floors from the detrimental effects of UV radiation, in addition to screening out the harsh glare of sunshine.

These window blinds can rapidly reduce the amount of heat that enters a room by up to 25%. With the vanes completely closed, you'll have practically complete UV protection, which will help keep your furniture and carpets from yellowing.

Features for light control

If there are tapes, ropes, and other gears cluttering the area around the blinds, having lovely and stylish window coverings will be useless.

Easy-to-use and elegant operating systems contribute to the whole system's clean style and lines. There are three options for operating systems:

1.Automation

You don't have to envisage a world where your window treatments adjust themselves.

Your blinds will only move when you plan them using Power View Automation, no matter what time of day or night it is. These can be controlled from home using the Remote Control, via voice activation when connected to a smart-home system, or via the Power view App if you're away from home.

Following a few simple steps, you can programme multiple settings.

2.UltraGlide

This cutting-edge operating mechanism uses a soft-touch, retractable cord. It also uses ergonomic wand to lift and lower your blinds while keeping the wire length constant.

You are left with a clean, attractive look because there are no dangling cords to detract from the look of your window coverings.

3.EasyRise

This method comprises a continuous loop that allows you to lift your window blinds simply by pulling on the cord.

The blinds rise when you pull in one way, while lowered when pulled in the opposite direction. For huge window treatments, this technique is ideal.

Silhouette Shades are a lovely way of creating a relaxing atmosphere in your house. These horizontal window blinds have soft, rotating fabric vanes that allow you to create a variety of moods.

Please contact us for all of your needs.