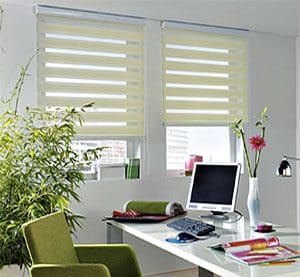 If you are looking for a stylish, classic, and versatile window covering, wooden blinds might be perfect! Wooden blinds are a type of window covering consisting of horizontal slats made from natural wood. They can be used in any room in your home and are available in various colours, styles, and finishes to suit your needs.
What Are Wooden Blinds?
Wooden blinds are window coverings made from, you guessed it, wood. Most commonly made from basswood, a lightweight yet durable hardwood, wooden blinds consist of wide slats that can be tilted to control the amount of light coming into a room and privacy. Wooden blinds can be hung inside or outside a window frame and come in various colours and stains to match any décor.
How Do Wooden Blinds Work?
Wooden blinds operate using either a cord system or a wand system. Cord systems feature two cords, one on each side of the blind. People can pull to raise or lower the blind or in certain cases they can tilt the slats to adjust the amount of light coming in. In the case of wand systems, they have a single control that does everything—raising, lowering, and tilting. Blinds Manufacturers in Mumbai suggest it as safer for homes with small children or pets who might get tangled in cords.

You'll also need to determine the size of the motorised curtain track you need. Ultimately, it will depend on the width of your curtains – make sure to measure before making a purchase! Finally, consider the installation process – some models come with easy-to-follow instructions, while others may require professional installation.
1: Improved Insulation
During the winter months, it is essential to have a window covering that will keep your home warm. Wooden blinds can do just that! Because wooden blinds cover your entire window, they help seal in heat and prevent cold drafts from coming into your home. It can reduce your heating costs and make your home comfortable during the colder months.
2: Increased Privacy
Another great benefit of wooden blinds is that they offer increased privacy compared to other window treatments. When the blinds are closed, people outside will not be able to see into your home. It makes wooden blinds an excellent option for bedrooms, bathrooms, and other private spaces in your home.
3: Protection from the Sun
In addition to providing privacy, wooden blinds can also help to protect your furniture and flooring from damage caused by ultraviolet (UV) rays. UV rays can fade the colour of your furniture and cause your floors to deteriorate over time. By blocking out the sun's rays, wooden blinds can help to extend the life of your furniture and flooring.
Takeaway
As you can see, many benefits come with owning wooden blinds. If you are looking for a stylish, classic, and versatile window covering, wooden blinds should be at the top of your list! If you are looking for reliable wooden blinds manufacturers in Mumbai get in touch with us!