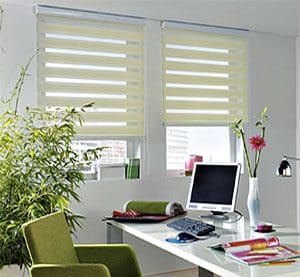 If you're looking for a stylish and versatile window treatment, look no further than roller blinds! In this blog post, we will showcase the top 10 highlighting features of roller blinds that make them a great choice for any home. From easy installation to energy efficiency, there's a lot to love about roller blinds. Learn more about what makes them so popular!
A roller blind can be made to measure, ensuring a perfect fit for your window.

Investing in a roller blind is easy to achieve the look you want while upgrading your window drapes. We design blinds that best fit the exact size of your window, ensuring no gaps or overhangs can disrupt the blinds functionality. At the same time, you don't have to worry about wasting fabric when making them, as they can be tailored exactly according to your needs. The perfect fit makes them highly effective at reducing light infiltration and providing privacy when needed.

Available in a wide range of colours and patterns to suit any room

Wallpaper offers homeowners a unique ability to personalise and accent their space. From traditional damask and florals to bold colours and funky patterns, there's no shortage of wallpaper options available today. No matter your preferred style or colour palette, you are sure to find something that fits the look of any room. Whether you are decorating a child's bedroom or a living room, there is an almost limitless array of colours and designs to choose from. Wallpaper helps add personality to any space, all while creating a beautiful ambiance instantly.

Easy to operate, with a simple chain or cord mechanism

Roller blinds are a modern solution to a window treatment that is becoming increasingly popular, and it's not hard to see why. With a simple chain or cord mechanism, roller blinds are easier to operate than other window covering options, saving time and hassle daily. Add to that their easy maintenance - simply dust every couple of weeks - combined with the flexibility of choosing from multiple fabrics, patterns, textures and colours for any decoration theme, and it is no surprise that roller blinds have become the go-to option for many homeowners.

Excellent privacy and light control, making them ideal for bedrooms and bathrooms.

Blinds are a popular window treatment choice because they provide excellent privacy and light control. This makes them particularly ideal for bedrooms, where you want to keep both sunlight and prying eyes out, and bathrooms, which need maximum darkness and privacy even when the door is closed. Blinds are also easy to use and can be adjusted up or down to let in as much or as little light as desired. Additionally, they come in a wide range of styles, colours, textures and materials to accommodate any décor. All these reasons make blinds ideal for sprucing up bedrooms and bathrooms

Durable and long-lasting, with many designs offering a 5-year guarantee

Roller blinds are the ideal type of window covering when considering cost and durability. They offer a stylish yet practical solution to your window decor, while their 5-year guarantee will last! Roller blinds come in a wide range of patterns, fabrics and looks - perfect for matching with any interior design. Whether you choose the classic plain styles or go a bit bolder with eye-catching designs, roller blinds are sure to be an attractive addition to your home. Furthermore, roller blinds are easily adjustable, making them perfect for regulating light and providing privacy as needed. With so many options available and lasting quality assured, roller blinds are an excellent choice for anyone looking for window coverings that won't break the bank.

Easy to clean, simply dusting or vacuuming regularly to keep them looking like new

No one wants to purchase a new piece of furniture only to begin looking stained and tattered after a few months. Fortunately, those who opt for leather furniture don't have to worry about that. Leather furniture is known for being easy to clean and maintain; - dusting or vacuuming will keep it looking brand new for years. Not only does it clean, but its luxurious appearance is sure to upgrade any room in the home.

Roller blinds are an excellent choice for window treatments. They are easy to install, operate, and maintain. Roller blinds provide good privacy and light control and are available in various colours and patterns to suit any room.

Are you looking for reliable roller blinds manufacturers in Mumbai?

Get in touch with us!