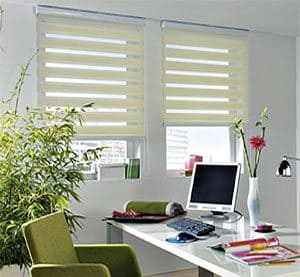 Choosing the right window treatment is critical when it comes to home renovations. They not only add flair to your interiors, but they also prevent your furniture from deteriorating and help you save money on your energy costs.

Zebra Blinds are a popular window treatment in modern homes since they are an excellent combination of beauty and functional features. Zebra blinds, also known as layered, dual, combo, or banded blinds, combine the light control with the timeless beauty of a cloth roller shade.
What are Zebra Blinds?
Zebra blinds mix a solid weave cloth with a sheer sunscreen. Light is blocked when the solid fabric strips overlap; light is let in when the transparent fabric overlap. These shades can go from open to closed in seconds, transforming a bright area into a darker, more private place. They work the same way as roller blinds and are available in motorised and non-powered versions.

Zebra Blinds are a popular window solution that has been around for more than a decade. However, as the style's popularity has grown, many additional styles are available. The functionality of the newest zebra blinds has also improved. In short, zebra blinds evolve ordinary blinds with slats specifically designed to make the blind. Vertical slat blinds and distinctive shades that blend either contrast or complementing colours are now available instead of all horizontal slats. As a result, these blinds are referred to as "zebra" because the colours are alternated to resemble the stripes of a zebra.

Zebra Blinds Manufacturers in Mumbai offer an excellent energy-efficient and environmentally friendly collection, even wooden ones. With some companies having many styles and colours to pick from, t consumer may have to make the most challenging decision between style and colour. The following are the choices:

• Standard size of wooden and fabric blinds

• Mini-blinds fabric and wooden

• Cellular slat blinds, which seem like fabric cells

• Faux wood blinds have the appearance of natural wood but are less expensive
Top Attractive Features of Zebra Blinds
Environment Friendly

While zebra blinds are more attractive, they are created from more organic, natural wood and fabric products, posing no environmental risk. Zebra blinds are also environmentally friendly because they save energy. Metal blinds from the past and plastic blinds that do not dissolve in landfills were not environmentally friendly.

Convenient

Zebra blinds combine the convenience of blinds with the elegance of draperies. Depending on budget, the materials utilized nowadays range from solid wooden zebra blinds to imitation wooden blinds. Zebra striped fabric blinds are also available. The level of elegance desired is coupled with the amount of light control wanted. Because these blinds are made up of individual slats, the diversity of colours is just as great as the variety of shapes. A customer can go for a bold contrast with stark white and black slats, or go for a more subtle look with white with cream, light brown and dark brown, cream with a light tan, and so on. The slats are linked together in a one-to-one pattern, providing the zebra impression with no matter the chosen colours. There are numerous opacity levels available, ranging from light-blocking to sheer.

Privacy

Moderate privacy is the most popular design, which may be achieved with a combination of dual sheerness, aka the light darkening and light filtering fabric options outlined above. Light-blocking shades are made of fabric or wood, whereas light-filtering shades are typically sheer fabric. However, wooden blinds can be modified to obtain different opacity levels. Because it is a suitable choice between whole room darkening shades and clear shades of blinds, dual construction of very sheer materials interwoven with darker fabrics is popular. With various slats and styles, a whole-house effect may be accomplished, or a distinct appearance can be presented in each room, offering a very modernistic and original approach to various areas.

Options within budget

Customers have the option of staying within their budget or going all-out with intelligent blinds. Smart blinds, for example, are now available and may be controlled remotely. Most people like the cordless lift style because the control of the blind is still hidden, and only one finger is required to raise or lower it. Another common alternative is continuous cord loops, with fewer cords on display because they are attached to a window or wall. More significant, heavier zebra blinds should use endless loops, as the weight of the blind puts more pressure on cordless or motorised blinds. It is entirely up to the purchaser and the home's arrangement. A crucial issue is the size of the windows or doors to be covered, as a broken blind should always be avoided.

Zebra blinds have overcome traditional blinds' problems in the past, and they are becoming more popular every year.

Enhance the look of your home! Contact Zebra Blinds Manufacturers in Mumbai now!