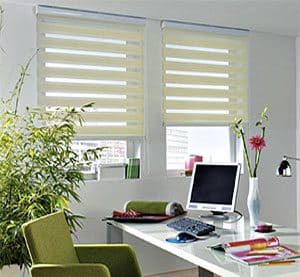 Are you looking to add a fresh look to your home or a new look to your window treatments? If you may be considering silhouette blinds, they offer a sleek and modern look. Silhouette Blinds Manufacturers in Mumbai suggest a few things to consider. This blog post will discuss eight essential factors when buying silhouette blinds.
What are silhouette blinds?
Silhouette blinds are a stylish and practical choice for any window covering. They are especially suitable in bedrooms, living rooms, and home offices, providing excellent light control while adding a decorative touch. Silhouette blinds are ideal for whatever space you want to cover with these functional window treatments. Their unique design lets you easily adjust the slats to let in just the right amount of natural light. Plus, people can use them with blackout liners for complete privacy or without them for maximum daylight. You can install Silhouette blinds on sliding doors for extra flair! With the wide range of colours and textures available, there's sure to be one that will perfectly complement your decor style.
Why do most people choose silhouette blinds for their homes?
For added convenience, many Blinds Manufacturers In Mumbai offer blinds with a remote control or wireless option. It makes it easy to adjust the slats without leaving your seat! You can also find models that feature a cordless system for quick and safe lifting of the vanes. You can customise your window treatments to fit your specific needs and preferences with many options. Whether you're looking for privacy, light control, or just some stylish flair for your windows, silhouette blinds are an excellent choice. So go ahead and explore all the options Silhouette Blinds Manufacturers In Mumbai offer – you won't be disappointed! It is the perfect solution for any room in your home.

The versatility of silhouette blinds makes them suitable for almost any space. Whether you're looking to add elegance to your living room, maximise the privacy in your bedroom, or brighten an office space, silhouette blinds are an ideal choice. With their beautiful lines and rich textures, these window treatments can create the perfect atmosphere for any setting. Give your home the perfect finishing touch with silhouettes!

For those who want maximum convenience in their window coverings, motorised silhouette blinds provide effortless operation. Just press a button from your couch and watch them slowly glide into place! And if you ever need to adjust the slats on higher windows, no worries.


Essential features to consider when buying silhouette blinds.
1. Light Control:
With silhouette blinds, you can control the light in your room. The light control system is adjustable, so you can easily adjust the slats to reduce and increase the light depending on your needs.
2. Room Size:
Another factor to consider when buying silhouette blinds is the room size. Ensure you measure your windows accurately to avoid purchasing a pair of blinds that are too large or too small for your space.
3. Colour Options:
There are several colour options available for silhouette blinds, so make sure you select shades that will match the existing decor in your home. This way, you can ensure a cohesive look throughout your entire house.
4. Cost:
How much you spend on your silhouette blinds will largely depend on the quality of the product and the size of the window you need to cover. Make sure you shop around and compare prices to get the best deal possible.
5. Installation:
Silhouette blinds require some installation, so make sure the company you purchase from provides professional services for this job. It will help ensure that you install your blinds correctly and safely.
6. Cleaning:
The fabric used in silhouette blinds can be easily cleaned with a simple cleaning solution or a damp cloth, depending on how frequently they're used or exposed to dirt or dust. Always check with the manufacturer for specific cleaning instructions before you begin.
7. Material:
Most people purchase silhouette blinds made out of fabric; however, other materials are available such as wood or aluminium. Consider the material carefully to ensure that it will last longer and look great in your home.
8. Warranty:
Lastly, check the warranty of your silhouette blinds before making a final purchase decision. This way, you can rest assured that your investment is protected if something were to go wrong with the product in the future
Takeaway
By taking into account these eight essential factors when buying silhouette blinds, you can be sure that you make an informed decision that will satisfy all of your needs and preferences.

Are you looking for Silhouette Blinds Manufacturers In Mumbai ?

Get in touch with us!