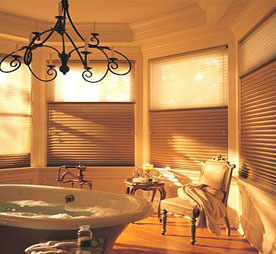 Honeycomb Blinds Manufacturers in Mumbai are also known as cellular shades. They are a sleek design alternative for choosing the perfect window treatments for your home. The name comes from the honeycomb-shaped airy layers that fold in an accordion-like pattern when pushed upwards. Besides their fashionable appearance, they provide several advantages for your home.

If you own a home, you are already familiar with the difficulties of insulating your living space throughout the year.

• In the summer, an estimated 76% of the sunshine that enters the house through ordinary double-pane windows converts as heat. Additional heat can come in if window coverings remain in the same position all day.

• Studies reveal that up to 30% of heating energy goes as waste through windows in the winter. Furthermore, winter sunlight may not provide extra warmth if window curtains remain immovable.
Why Do Cellular Shades Work So Well As Insulators?
The key is the design, notably the honeycomb-shaped compartments that make up the blind. Each blind has a sequence of open cells, which are foldable. Also, the air-filled structures keep the air temperature controlled inside.

• As a result, honeycomb blinds "keep" the hot air flowing in through the window. It also prevents it from leaking into your rooms, which keeps cooled interior air from escaping.

• In the winter, those same cells "keep" chilly air blowing in through the window, and it also prevents heated inside air from escaping. Honeycomb blinds can reduce heat loss through windows by up to 40%, and as a result, you can reduce 20% of energy expenses.
Honeycomb Blinds Have Energy-Efficient Properties
Honeycomb blinds for window is known for their insulating characteristics. The design of this window treatment captures air in stacked lines of honeycomb-shaped fabric cells. As a result, it prevents draughts and maintains a consistent temperature. This keeps your home warm in the winter and cools in the summer. Additionally, it also minimises your dependency on air heating and conditioning.

One of the reasons most homeowners and residents prefer honeycomb window blinds is their energy-saving properties. The size of each cell influences the quantity of energy you can save, and larger cells are more energy-efficient than smaller ones because they are more efficient.

Large windows allow air to flow in, the most common source of air leakage in most houses. To save money on energy, people use double or triple cell honeycomb blinds for home Single-cell blinds are ideal for smaller windows with fewer air leaks.

They limit the quantity of natural light that filters into a space. Single and double cell honeycombs will block dangerous UV rays from entering the room. Thus, making them an excellent technique to control light infiltration. They absorb sound, which helps prevent unpleasant and annoying noise from outside. You can also efficiently save energy and block UV rays.
What are some of the benefits of Honeycomb Blinds?
They control light flow.

Honeycomb shades are available in a variety of fabrics and opacities. The choice mainly depends on whether you want complete darkness or light filtration. For example, opaque fabric in your entertainment area will obstruct light. But, a translucent fabric in your living room will filter it. As a result, you can quickly raise the shades anytime you wish to let light in or lower them when you want a darker, more sleep-friendly environment.

They are sleek and Up-to-Date.

These hues are ideal for any home, whether a luxury villa or a rustic farmhouse. They are ideal for functional use, but they are also a lovely addition to your home to brighten up the space. Their sleek and versatile design blends in with various interior design styles. They also include rustic, contemporary, industrial, and minimalist.

Provide personal space

Are you seeking privacy-enhancing window treatments? Then honeycomb shades with single or double cells are the way to go.

These window treatments are hard to see through once lowered, and hence they are ideal for homeowners with windows facing a neighbour's property or a busy roadway. For added seclusion, you can use double-cell shades with room-darkening fabric.

Are you looking for reliable Honeycomb Blinds Manufacturers in Mumbai?

Get in touch with Blinds India! We can provide one of the best window treatment solutions for your home or commercial space