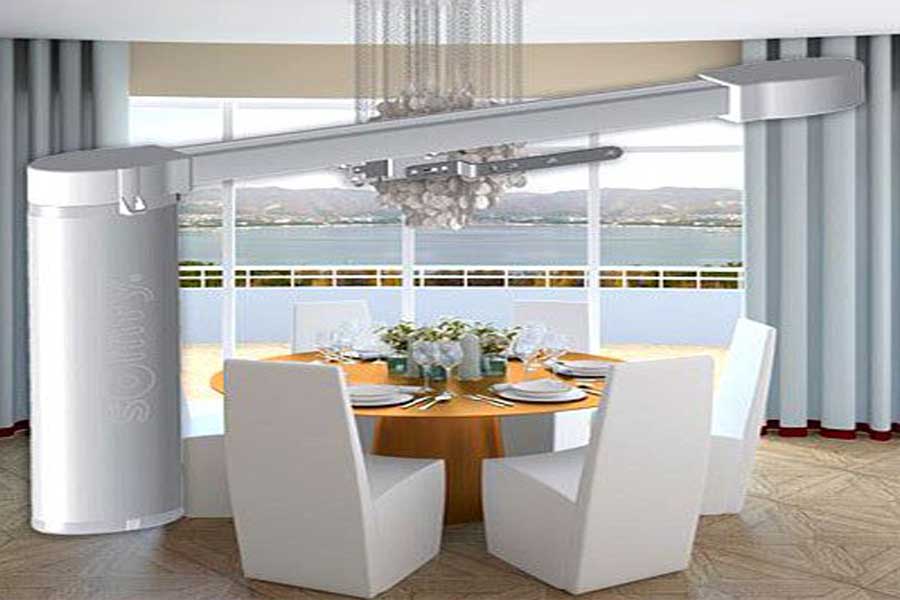 Cellular shades are often known as honeycomb blinds, and these blinds are ideal for modern, sophisticated environments. The blinds absorb sound, retain air for better energy efficiency, and minimise light gaps for a crisp, clean, and contemporary look.
Honeycomb Blinds – Overview
Honeycomb blinds are designed from a single continuous piece of cloth and rolled or folded across their crisp pleats, and later the fabric is glued together to create the honeycomb-shaped cells. There are single, double, and triple-layered designs available that trap air between the shade's layers in discrete cells to offer insulation. Additionally, they are available in a range of pleat sizes, colours, and light control settings ranging from sheer to blackout.

Honeycomb Blinds for large windows are amazingly flexible, making them an excellent alternative for irregularly shaped windows. The honeycomb shades are lightweight and can be put vertically or horizontally. The combs do not only offer the aesthetic look, but they also trap air, making these shades both thermal and sound insulators.

Many people choose honeycomb blinds due to their benefits, ranging from improved light control and insulation to privacy. However, they have some disadvantages that you should consider before getting them for your home.
Top reasons to choose Honeycomb Blinds manufacturers in Mumbai
Here are some reasons why people love to install these beautiful and useful window treatments:

Sound Absorption

Honeycomb Blinds for large windows absorb and contain noise that enters through a door or window. This novel property is due to the structure of cellular shades, which trap noise within huge cell channels. As a result, cellular shades are popular in children's rooms. Whichever part of your home you want to install cellular blinds, the outcome is a peaceful environment.

Efficient Energy usage

Honeycomb Shades are renowned for their outstanding energy efficiency. They are excellent insulators because they form a pocket at the front of the glass. Consider the difference between a double pane and a single pane glass. Honeycomb shades have a high R-value due to the pocket that traps warm air and prevents it from being transported into the room. Additionally, cell shades trap warm air from within the property during the cold months, preventing the cold from penetrating quickly.

Elegant Design

As previously stated, fully installed cellular shades match the window far more closely than any other treatment. The headrails on cell shades are equally subtle. When the cellular shades are fully open, they stack firmly against the headrail, allowing an uninterrupted view out your window. Honeycomb Blinds manufacturers in Mumbai offer a fashionable fabric selection with varying degrees of light, privacy control, and intelligent engineering. If you wish to let natural light into your office or home, we offer a variety of unique light filtering patterns. On the other hand, if you're concerned about strangers peering into your home or want a window treatment that blocks out the majority of light, we have a variety of blackout cellular shade designs to select.

Numerous Applications

Honeycomb Blinds for the window best suits any room in the house. Vertical cellular blinds are perfect for large windows and sliding glass doors, and cellular blinds are also an excellent choice for skylights. The design of cellular window treatments fit arches and trapezoid windows in your home.

Wide range of design options

There are numerous design alternatives for honeycomb shades, ensuring that any consumer will find something they like. Cell shades are available in a range of hues, textures, and opacities. They let little or as much view-through as required, ranging from sheer to blackout. Furthermore, honeycomb blinds come with a variety of lifting mechanisms. Additionally, you can get honeycomb blinds with a top-down-bottom-up function, which allows the blinds to be lowered from the top, maintaining privacy below while allowing light to enter from above. Another excellent feature of honeycomb shades is their vertical rotation on a track, ideal for sliding doors or floor-to-ceiling windows.

Clear and smooth appearance

Honeycomb shades are mainly composed of polyester, lending a pleasant appearance to any room. Since honeycomb blinds stack like an accordion, they are an excellent choice for those who wish for some privacy. They pair beautifully with draperies, and many people adore the pleated appearance of the shades.

Are you looking to install some attractive and top-quality honeycomb blinds? Then get in touch with Blinds India! We offer the best quality products at a competitive rate