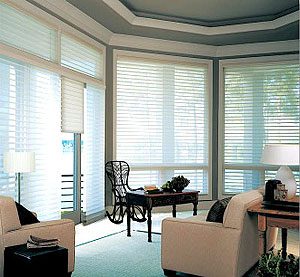 Are you looking for blinds that allow light to pass through while keeping your eyes open? If this is the case, silhouette blinds may be the best option for you. These blinds act as a sun filter and are an excellent fit for any room in the house. To learn more about silhouette blinds, keep reading.

Silhouette blinds Manufacturers in Mumbai are a sheer blind that is available in varied colours. They allow light to enter without needing to be lifted. The translucent fabric used to create these blinds acts as a light filter, creating the illusion of a bright, open space without lifting the entire blind. Blinds bring light into your home at the same time it also gives protection to your house from outside environment. These blinds are perfect if you have easily visible windows from the outside. Silhouette Blinds for home are available in various materials, each as visually appealing as the next.
Features of Silhouette blinds
Glowing Windows:

Light and privacy may be easily controlled at the same time by blinds. Silhouette blinds have unique S-shaped vanes that hover between two sheer panels to evenly disperse light while also blocking out the view of the outside world on turning on the vanes. The unusual design, which reflects incoming light towards the ceiling, naturally brightens the space.

Versatile Fabrics :

Silhouette blinds are dust-resistant, anti-static polyester durable and easy to clean. There are two opacities to choose from. Translucent materials softly filter light while protecting furnishings from UV light; room-darkening vanes provide complete privacy without completely darkening an environment. Silhouette blinds come in several attractive materials, including glittering Must and silken French Linen.

The Sword:

The silhouette blinds include the "S-Vane." The opaque and translucent materials for this one-of-a-kind product are both available. There are options for light control, privacy, and total soft-focus vision. Silhouette blinds and privacy Sheers can be mixed and matched to provide a consistent look and colour palette across your home. Simple Elegance :

No cords are running through the fabric shading, which adds to its simple elegance while allowing for an unimpeded view.

Precision Decision :

To have comprehensive light control, tilt, elevate, or decrease your shadings. Simplicity, ease of use, and increased safety for your kids are all benefits of using Silhouette blinds with one of our operating systems. These include Power View, Easy Rise and Lotteries, as well as ultra-glide lift systems.

Motorisation :

Create a timetable to open and close your window coverings on their own at any time of day using automation. You may control Silhouette Blinds for the window with the press of a button, the swipe of your mobile device, or the sound of your voice.
Benefits of using Silhouette blinds for windows
Children safety:

Operation methods that improve kid safety include Power View battery operation, Ultra Glide retractable cables, and cordless literalise, which minimises choking hazards by eliminating the need for strings from the product's design.

Fabrics :

Casual linen, woven fabrics, the Alustra collection, and light-dimming materials are just a few of the gorgeous fabrics that are now available. Hundreds of colour and fabric combinations are available, and they can be mixed and matched with other goods like Laminates, Pirouettes, and Duettist.

UV Shielding :

Every window covering in our collection includes built-in ultraviolet UV protection, which protects your flooring, furniture, and artwork from fading. The two layers of sheer fabrics protect your furnishings from direct sunlight by blocking up to 88 per cent of UV rays while the vanes are open and 99% when closed.

Controlling the lighting :

It possesses two sheets of thin materials, so it efficiently controls the light that passes inside. With dark shadows being decreased and disperse the light around the room. Vanes may be angled to provide the maximum light while also maximising day lighting opportunities with Silhouette Blinds for large windows.

Transformation :

The blinds control the sunlight and transform it into a soft, pleasant glow. Furthermore, there are no cables or tapes to detract from the magnificent appearance of the window using fabric vanes and sheer facings.

Please help us remove your vast, dusty, and inconvenient traditional curtain. Don't hesitate to contact Silhouette Blinds manufacturers in Mumbai right away to learn more about us and how we can help you transform your home with magnificent window blinds.