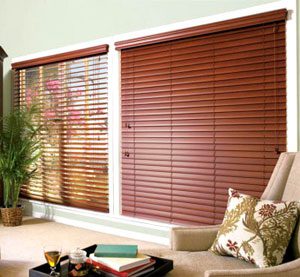 Wooden Blinds Manufacturers in Mumbai have remained a popular choice for decades because of their numerous aesthetic and practical advantages, making them an excellent choice for any space.
Attractive Features of Wooden Blinds for Large Window
Enhanced security

Unlike PVC and cloth blinds, wooden blinds are completely opaque; thus, when closed, your family and home are wholly shielded from outsiders' intrusions into your private life.

Proper insulation

Hardwood blinds are one of the best insulators. This feature keeps your home at a comfortable temperature, allowing you to adjust your heating and cooling systems as needed. Thus you will be able to save money by consuming less energy to heat and cool your home.

Long-lasting

If you are looking for a long-lasting window treatment, wooden blinds for windows are the way to go. You can expect them to last for many years to come, making them an excellent long-term investment.

Low maintenance

Fabric blinds are porous and therefore require regular deep cleaning to keep them looking excellent. With wooden blinds, the rough surface acts as a barrier against grime, and all they need is a weekly dusting to seem as good as new.

Tasteful

Wooden blinds offer a timeless appeal. Their innate beauty makes their timeless works of art. Paint and polish the blinds to fit any decor or leave them unpainted to reveal the wood grain
The Different Types of Wooden Blinds For Home And Their Features
Choosing the best blinds for your home involves knowledge of the many varieties and their features. Online window blinds also offer a wide range of possibilities.

Wooden Blinds for Home are a great addition to any home, regardless of style or budget. Your home's energy efficiency may suffer if you don't have window shades. You also won't be able to hide or dim the light in the room if that's an issue. Also, some smart blinds may make your daily routine easier. With a smartphone, you can operate these blinds remotely, set a schedule, or even control them with your voice.

There are many various kinds of blinds, and we'll go over what makes each one unique in this post.
Classification of Blinds
Venetian Window Shades Venetian blinds, which are also known as horizontal blinds, are frequently found in offices. Installing and using it is a snap, and they last a long time.

A variety of materials are used to make them. As well as being able to tilt, they have a rotating system that makes it possible for them to open up and out. In this technique, the amount of light may be precisely controlled.

Vertical blinds

They control brightness. The tablets spin like the Venetian tablets but are arranged vertically. PVC, wood, or cloth. They come in a variety of hues. come in many colours

Curtains with Thermal Insulation

When it comes to protecting against the cold and the heat, they are built of aluminum with injected polyurethane foam insulation.

If you live near a busy street or avenue, thermal blinds can help minimize noise pollution. They're not as heavy as you may think.

Roll-up Shutters

When it comes to these shades, they're not technically blinded but instead shades that roll down from the top. Blackout and light filtering materials are available, allowing for a delicate glow of light even when the wooden blinds for large windows are closed but blocking out all light.

The colour and condition of your furnishings, fabrics, curtains, and floors are all protected by roller blinds. They come in various colours and can be rolled up into a tube at the top of the window, as the name suggests.

Adjustable Blinds

Blinds that are constructed in one piece and without joints or visible welds are also available today. Assurances of long-term viability and resistance are provided.

Airflow and light management are two of its key features. Because of this, they are used at any time of the year to maximize energy efficiency. It is possible to adjust the blinds to be opened up to 12 degrees, allowing for easy access to the outside for cleaning.

Wooden Venetian Blinds

As a last option, wooden blinds are an excellent choice for both decoration and sound insulation. In addition to being affordable, they add a personal touch to your room's ambience. To avoid the material being destroyed or becoming a home for bugs, it must be regularly cleaned, dried, and maintained.

You have a brief understanding of various characteristics of wooden blinds, and we hope this blog will guide you in making a better decision when it comes to choosing your Wooden Blinds Manufacturers in Mumbai