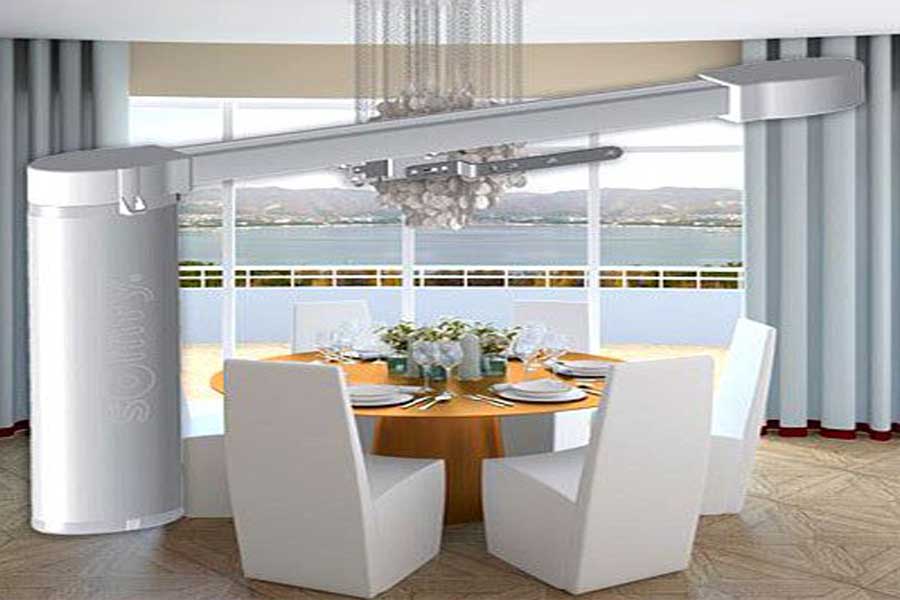 Motorised curtain tracks are ideal for larger flat, loft, or home windows and ordinary windows. Ultimately, it contributes to your home's modernity and comfort. However, these are not the only benefits of motorised curtain tracks. The advantages also include reticent and include a small and attractive electric motor. Hence, it effectively enables them to be easily integrate into any interior design.
What would you need to know about the different motorised curtain tracks?

Automated Curtain Track

Be the ideal environment in your house with a state-of-the-art Motorized Roller Blinds, which enables easy open and close operation with a remote control touch. Ultimately, this becomes an one-of-a-kind and elegant choice.

Remote Control Curtains

An automatic curtain system in your home provides numerous benefits. This ultra-cool automatic curtain opening doubles as an excellent temperature regulator. Furthermore, you can filter sunlight to create a mood. By this way, a simple remote control can keep your home warm or chilly, bright or dark.

Window Curtains That Open Automatically

With these smart curtains, you have complete design freedom. You can hang the curtains of your preference and customise the look of your room. However, there will be no concessions. Therefore, if you are interested in experimenting with light and darkness or sheer and opaque curtains, this high-tech solution will work. Using twin automated tracks, you can benefit from a broader range of heat and light intensity. If the measure of your window is between 1 and 12 meters in length, install this automatic curtain track system in your home. The curved track attachment, wall brackets, and ceiling bracket options provide complete design versatility for your windows. The elegant and sophisticated curtains lets you extend from left to right or vice-versa and from the centre.

Motorized Curtain Track

The remote-control curtain track system features six to fifteen channels, allowing you to manage up to fifteen separate channels with a single remote. Additionally, it includes a time emitter feature that allows the curtains to open at various times throughout the week and weekend, allowing you to sleep longer. Additionally, because it is an exclusive design for Indian households, these curtains will operate in the event of a power outage. Similarly, you may also manually operate it, which means that when the remote is not available, you can walk up and close or open the curtains. However, if the style is your thing, you can have it your way with a battery-operated remote control. Although there is no electricity, it may still operate via remote. For this reason, the motorised curtain tracks include a built-in battery that may last up to six months.
Benefits of motorised curtain tracks

1. ELEGANT DESIGN

Motorised drapery tracks are an excellent space saver. Indeed. they are slim and discreet, obviating the need for typical curtain rods and heavy hardware. With the capacity to be concealed within pockets or fixed to the ceiling, the motorised curtain tracks blend seamlessly with the interior décor.

2. CONVENIENCE/EASES OF USE

Motorized Curtain Track Manufacturers in Mumbai make it possible. Hence, you can adjust the lighting, brightness, and privacy levels in your house without moving. It can be controlled with a handheld remote, a wall switch, a smartphone or a tablet, or a voice command.

3. ACCESSIBILITY

Motorised curtains improve accessibility. For this reason, you no longer need to adjust the curtains on difficult-to-reach windows or exert yourself pulling and tugging on heavy curtains set on broad or double-height windows.

The curtain tracks provide the manual override. A simple tug on your curtain fabric activates the track, opening or closing the curtains. Another remarkable feature of motorisation is that if you lose track of your control device (remote, smart device, etc.

4. CONVENIENT MAINTENANCE

The motorised operation eliminates the need for "hands-on" care of your drapery and curtains. Wear and tear on fabrics and hardware is significantly reduced, allowing your fabrics to retain their crisp, clean, and elegant appearance considerably longer than with the manually operated alternative.