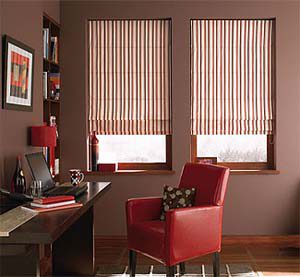 Roman Blinds Manufacturers in Mumbai have been a popular option for covering windows in homes and businesses worldwide. Roman blinds are popular today because of their utility, durability, elegance, and classic aesthetics. Venetian window blinds are a modern form of furniture now.

Benefits of installing Roman Blinds

Let's look at a few of the many benefits of using Roman blinds in your house.

1. Control: These blinds provide you with complete control over the sunlight exposure and the home's privacy. They are made up of horizontal slats that may be lowered or lifted to achieve the desired amount of isolation. Depending on how much sunshine you want to let in, the slats may also be tilted open or closed.

2. Ease of Installation: One of the best benefits of Roman blinds is that the homeowner may install them. A degree in engineering is not required to understand the heads or tracks. The slats are pre-threaded, so all you have to do is hang them using the instructions.

3. Low-Maintenance: Roman blinds require less care than other options, and they don't need to be taken down and washed. Instead, you may undertake occasional dusting, and wiping down with a dry or damp cloth can be done to seem fresh new.

4. Materials: Roman blinds for windows come in a wide range of materials. Choose from aluminium, wood, fake wood, or PVC. Mini slats, considerably thinner than standard slats, allow more control and customization.

5. Price: Roman blinds are fantastic since they come in several pricing points, so you can choose one that fits your budget. At the high end, expect to see aluminium or wood slats, and those on a budget will have to make it with PVC (or plastic).

6. Versatile: Finally, these blinds are more versatile than other types. They go with practically any style or décor, from rustic to modern minimalism, which means that you can quickly locate suitable furniture for the application and the current décor of your house.
Optimize the use of Roman Blinds in different spaces of your home
Roman blinds are a popular window decorating choice due to their sophisticated design and light management capabilities. Roman blinds made up of aluminium, PVC, or wood. Listed below are the materials.

Aluminium Roman blinds:Aluminium is widely used for its strength, affordability, and resistance. It comes in a variety of colours and finishes to match any decor. Aluminium blinds also reflect light and heat well. Choose micro-perforated slats for a more muted environment when the blinds are closed.

PVC Roman blinds: PVC is resistant to fading, cracking, and warping, making it ideal for humid spaces like kitchens and bathrooms and high traffic areas. If you want the look of wood but don't want to deal with the humidity, PVC imitation wood Roman blinds are a great option. They seem honest and come in a variety of colours. PVC Roman blinds are also less expensive than wooden blinds.

Wooden Roman blinds: Wooden Roman blinds are valued for their elegance and opulent look. Real wood blinds provide a natural, warm, and elegant feel that complements classic or grand interior styles better than PVC. It insulates well and protects furniture and artwork from UV rays. We should not use wooden blinds in humid places to collect moisture and distort.

Now that you know more about the three types of Roman blinds, here are some tips for choosing the best Roman blinds to use in each of your rooms:

Bedroom:

Roman blinds for home help prevent glare and heat from the sun. Wooden and aluminium Roman blinds provide good privacy, block sunlight, and reduce heat in the space.

Kitchen:

Choose a material for the kitchen that the moisture will not impact during cooking. Even boiling water produces steam, which causes warping in wood blinds, and Roman blinds made of PVC and aluminium will withstand the moisture.

Kids Bedroom or Nursery:

When it comes to a kid's bedroom, safety is a top priority. Because cables may be a choking hazard for little children, go for motorized cordless blinds. When picking the appropriate blind material, durability is also important. PVC Roman blinds are durable and come in various bright, vibrant colours that kids will enjoy.

Bathroom:

Your bathroom blinds may get wet from excessive humidity or direct water splashes from the bath or shower, and PVC or aluminium is good alternatives. Unlike most fabric blinds, these materials are mildew and mould resistant.

We hope that these general guidelines have helped you learn more about Roman blinds!

Get in touch with Roman Blinds Manufacturers in Mumbai to explore our exotic range of products for more extensive guidance on choosing the blinds based on your specific needs and tastes

Get a free quote!